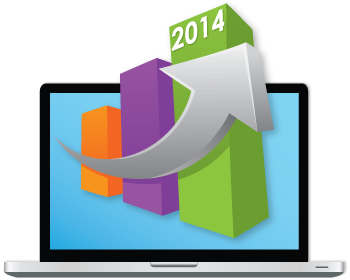 Is your company's online branding a little stale? Are your website copy and images no longer appropriate or dated? Is your website message more about you instead of geared toward your target audience and current customers? Is your competition looking fresh and new online yet you're still sailing along in the 00's (or worse, the 90's)? Yikes! These are all telltale signs that you should probably consider getting the ball rolling on a website update!
But … While these reasons are really important, they're all just aesthetics. We can tell you a few more important and functional reasons you should consider an update to your website in 2014.
We're going to start with the easy stuff, but please don't cheat yourself by not reading to the end … that's where the tricky stuff comes in to play! We promise, it will be worth it!
1. are you losing potential customers?
With the way technology is changing these days, you want potential clients to know that you are also changing and learning to meet their needs. And lets face it, if your website is still stuck in the stone age, who's going to trust you to be up-to-date and current on the relevant information, practices or products they're looking for?!
People want to see you making an effort in order to know they'll be getting the same effort in the quality of services/products they'll be receiving from you. A fresh, new look and updated content will help you attract the customers you want to reach now!
2. are you missing the mark for your target audience?
If your online presence has not evolved or changed in the past few of years, your customers will  assume that your company hasn't either. While you'll want to make sure your brand is updated and fresh, you'll also want to make sure you're providing regular updates to your website to keep your clients interested … whether it be by adding new products, talking about important information that is pertinent to your business and your client's interests, sharing what's new with your company and your milestones, etc … those things that let clients know you're doing well, staying current and have their specific interests in mind!
Remember, they also want to know what you can do for them!
3. are you attracting attention and visitors?
You may have Google Analytics set up already and are able to see the number of web visitors you have each month. If not … you'll want to do that so you can see if anyone's paying attention to your website and what you have to say. If you haven't made updates to your website lately though, it can be a shocking reality! Unless you're providing something new for people to see, your traffic will drop. Consistently having new material and freshening your look will help you get more attention. It will help to keep your current visitors interested, provide new SEO opportunities and continue to generate new traffic.
This is where blogging and social media come into play. Yeah, yeah, we get it … you don't know anything about blogging or have time to keep up with every social media outlet out there. We get it! And we don't recommend it … at least not all of it.
But having a blog is the easiest way to make those regular updates to your website and provided the relevant information that your ideal customers are looking for. And sharing those updates on social media (pick the one outlet that works best for your business) helps you extend your reach even further and attract even more new leads. Remember, you're here to meet the needs of your customers … And when you meet their needs, you get happy, returning customers!
4. are you still getting found in search results?
Have you Googled your business lately? Google changes their search ranking criteria fairly often. Are you keeping up? If your site doesn't meet the new standards, your rankings will plummet (maybe they have already…?)
The fastest way to improve your rankings in search results is to continually create fresh, relevant content on a consistent basis. Google doesn't reward keyword stuff, they reward the hard work of creating awesome content. You might find this post about the four most common blog questions to be helpful when thinking about creating content.
5. do you have an email marketing system integrated with your website?
Email marketing is one of the most effective tactics for driving sales. We're not even going to include a link or reference here because you can Google it and find thousands of these stats EVERYWHERE! But in case you need a little reassurance … according to a study by ExactTarget, 77% of consumers prefer to receive permission-based marketing communications through email. Now what does that say to you???
If someone finds you on the web and is interested in your product or service but is not ready to purchase or interact with you at the time … if you don't have an email opt-in to capture their information and send them a reminder email every so often about you business and services, then how are they going to remember to come back and see you again? (are you banking on a post-it note???) Now look at all of that revenue you may have lost!
6. is your website easy to use on mobile devices?
Long gone are the days where people want to pinch and drag to look at your website on their smart phones or tablets. You need to adapt with the times and technology so that your customers can view your website information on the go … from whatever device they choose.
What does mobile responsive mean? Simply that your website is programmed to adapt to any device that's it's viewed on … without the "pinching and dragging". With this whole new generation of smartphone and tablet users, if you don't adapt to their lifestyle, they'll find someone else who will.
Here's another strong reason to convert to a Mobile Responsive design … Google has now decided to start warning mobile users if they are clicking on a site that is not "mobile friendly". Will your clients still be able to click through to your site? … Sure. It's just a big glaring flag to them that you're not keeping up with their needs first by adapting to the latest technology! And this has been around since 2012.
Here are some interesting mobile phone statistics that you may not know:
According to data compiled by the Mobile Marketing Association of Asia, of the nearly 7 billion people worldwide, over 5 billion people own a cell phone, whereas just about 4 billion own a toothbrush.
Currently, mobile phones are employed for carrying out 3 out of 5 searches.
According to Mobile Marketer, an overwhelming 70% of searches carried out on mobiles lead to action in under an hour.
By the end of 2014, over 50% of all internet traffic will be via mobile phones.
Sounds kind of important, right? We got these stats from this article on LinkedIn … It is worth a read!
7. is your website giving the right first impression?
Having a professional, regularly updated website is a great way to expand the way you do business and instantly build trust with your target customer. You can build your authority by creating helpful content, promote new products or offerings, share new ideas or concepts, etc.
But we get it … you may be one of those small business owners that thinks "I don't really need a website because most of my business is from referrals … I just need a web "presence."
So Not True!!! Whether most of your business is gained through referrals or not, you can bet either way, someone's checking you out online to make sure you look reputable! While you may believe that the referrals are strong enough to keep your business running and profitable, the younger generation of potential customers has a different opinion.
8. does your website support the growth of your community?
Today's marketing has changed … It's all about building a community around your business through a blog, email and through social media.
You can't just tell people what you offer or what you think they want anymore and expect them to buy. Your clients want interaction, to be able to comment and expect to be engaged! They're not interested in a one way message … and you're losing out on SEO and great conversation about your product or service if you don't engage customers/potential customers.
Get people talking about you!!!
9. is your website a true representation of your brand?
More than likely your website will make a lasting impression on your target customers … better make sure it is a good one!!!
An attractive, professional and up-to-date website design will help you to gain trust with your target customers. It is important to design with your ideal customer's experience in mind so that you will attract more of the same. If you don't take the time and effort to create a great website and make a great experience for your potential customers, they will immediately lose faith in the quality of your products or services.
You know when you go to a business website and it has out of date information and looks like it was made 10 years ago? Yeah, I bet you don't trust that business very much do you?
The same is true for your business. If you do not design your website around the needs of your target customers and continually work to improve your website, you are loosing out on opportunities and revenue. This is a subject we will go more in depth on in coming blog posts so don't worry, you will soon know exactly what features you need to have on your website!
10. are you in control of your website?
If we've said it once, we've said it a thousand times. YOU need to be in CONTROL and OWN your website and every account associated with your online presence. If you do not have a master list of your accounts and don't know how to login and add content on your website … take care of that today!
A successful business owner cannot be in the dark about an asset as important as your online reputation. (And do not assume your "techie" employee will work for you forever!) We have a blog post all about this that will help you get on board and fix this immediately … check it out!
next steps …
Good News … the next few weeks here on our blog are going to be a crash course in improving your online marketing skills. From how to start a blog, how to move your website into WordPress, what design elements convert customers, realistic SEO strategies, how to maintain your website and more, we will cover it in our blog series.