Did you know that CNN, Ebay, Ford, Wall Street Journal, People Magazine, New York Times, Sony and more have at least one of their (or all of their) websites powered by WordPress. It isn't just something your daughter uses as a blog … it powers over 60 million websites for individuals and business looking to grow their online presence.
You can be an expert developer and create a huge eCommerce website with 10,000 products or be an individual running a small business who generates all of their leads through your website … and WordPress is the perfect choice for both!
WordPress is one of the easiest to use, most flexible content management systems (CMS) available for websites. Before we get into all the benefits of using WordPress to improve your online presence, let's define what a "CMS" really is. Simply put, a CMS is an application that allows you to create and publish content on web pages/posts, embed media, control styling and maintain your website from one user interface.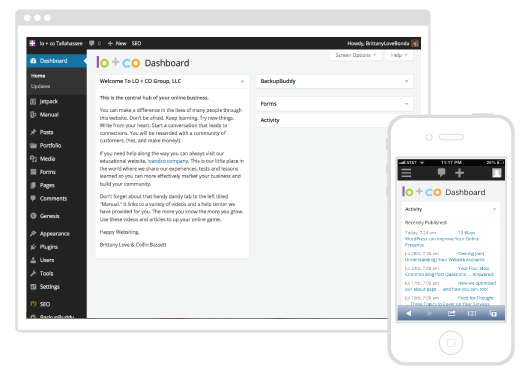 Let's take a look at how great WordPress is for small business owners like yourself …
WordPress is easy to use. (read: You will actually use it!)
We always say, "If you can work Microsoft Word, you can add/edit content on your WordPress website." WordPress comes with a built in Visual Editor, meaning you can change text colors, bold text, create headings and more all without knowing any HTML!
WordPress is accessible on the go. (read: You aren't tied to just one computer!)
You login to your WordPress website through a specific URL (web address) and can do so from any smartphone, tablet or desktop/laptop. You don't need any special software to make edits. Everything you need is built right into your WordPress website!
WordPress is open source and utilizes plugins. (read: You can grow and expand your website features as needed!)
WordPress was founded in 2003 and has been and will always be open source. This means the blueprint, core functions are free to download as a software, modify and design upon and install on your own server. In short, developers design incredible features you can add to your website and designers like us, can modify and customize WordPress specifically to a business' needs!
WordPress is updated frequently. (read: Your website technology stays ahead of the curve!)
Everyday the WordPress team is working to improve the core of WordPress and push web design and development to the next level. There is no set frequency for updates, but every few months more features and upgrades are pushed out to the community. Some updates are bigger than others … for example, the entire admin dashboard was updated in 2013. The new admin dashboard is super sleek and even easier than before!
WordPress is loved by search engines. (read: Your website will get found without a SEO guru!)
The architecture of WordPress is beyond user friendly for search engines. Every post, every page, every image and media file is a tool to help you improve your search engine rankings. The best part of WordPress is that you don't have to be a SEO guru with 10+ years experience to easily optimize your search. Again, it is as easy as understanding the concept of SEO and using the tools WordPress has built in!
WordPress is easy to maintain. (read: Your website maintenance fees won't be astronomical!)
WordPress is so easy to maintain. You do need a little bit of knowledge of website accounts, but with training you can do it yourself. You simply backup your current website, use the one click update features that WordPress provides, and you are updated in a matter of minutes. Fair warning, sometimes things break. If you are not regularly maintaining your plugins and core features of your website, the improvements of WordPress itself can exceed your add ons and break your site. This is rare, but we do offer maintenance plans for very reasonable rates so you don't have to ever worry about backing up or maintaining your website yourself!
WordPress is great for membership sites. (read: You can make money from your knowledge!)
Remember that open source tidbit we mentioned above? That makes membership sites a breeze to build and maintain. Instead of building a membership feature from scratch, you can purchase Membership Plugins. This saves you thousands upon thousands of dollars in development time. Yes, you probably want to have someone like us set it up and it takes a little bit of time, but it is WAY easier than starting from scratch. You can get a membership feature added to your website for $1,000+ depending on your needs instead of starting at a base price of $10,000 or more!
WordPress is awesome for ecommerce sites. (read: You can open that store you've always wanted!)
Just like the membership plugins, you can easily add eCommerce plugins to create a beautiful, highly functioning eCommerce store. We absolutely love WooCommerce and use it for our own online stores and recommend it to clients. WooCommerce itself offers so many add ons … from USPS shipping to downloadale products to video product tabs and more. The best part is not just the cost savings ($2,000 compared to $15,000) in setting up an eCommerce store on WordPress, but also how easy it is for you and your staff to add products, track inventory and more!
WordPress is excellent for generating leads. (read: You can grow your email list and automate your marketing!)
The name of the game in online business success is generating leads (collecting email addresses). You can easily connect your favorite email marketing system, like Mailchimp, and collect email addresses 24 hours a day. The leads can be segmented based on special offers, you can set up automatic responses to opt ins and create a sales team via email!
WordPress is cost effective. (read: You can finally afford the website of your dreams!)
You can build your first WordPress website for next to nothing considering the benefits it provides you. We are preparing to launch pre-designed packages that range between $1,250 and $2,500. If you need a straightforward business website or blog, this is going to be an amazing option for you. If you need additional features, like highly customized graphics, eCommerce features, membership features, advanced lead generating opportunities or mls/idx feeds, we offer custom website packages starting as low as $4,500!
Goodness, we could list a dozen or more benefits of WordPress but we will save that for another post. If you would like to see a few of the WordPress websites we have customized for our clients, jump over to our portfolio and take a look!