Unless you live under a very large rock, you've heard of this little company called Google. They are making a HUGE change to mobile search results on April 21st, 2015 and it could really help or hurt your business. Let's talk about Google real quick …
In 1998 they revolutionized search with the creation of Google.com. (It really started in 1996 and was called BackRub … glad they changed the name!) Their mission was and still is to organize the insane amounts of information on the web. They do this primarily by displaying only relevant search results.
How do they deem a website to be relevant to what you searched for? A lot of factors. You may have heard the word "algorithm" thrown around a bit. It is a fancy computer program that analyzes websites and matches what may be relevant to your search. What it deems to be relevant matches is what pops up in your search results. Here are Google's Words:
For a typical query, there are thousands, if not millions, of webpages with helpful information. Algorithms are the computer processes and formulas that take your questions and turn them into answers. Today Google's algorithms rely on more than 200 unique signals or "clues" that make it possible to guess what you might really be looking for. These signals include things like the terms on websites, the freshness of content, your region and PageRank.
FYI, Google's algorithm changes over 500 times each year. A lot of the changes are not a big deal. But some are a REALLY BIG DEAL!
THE MOBILE SEARCH CHANGE ON APRIL 21st, 2015 IS A REALLY BIG DEAL!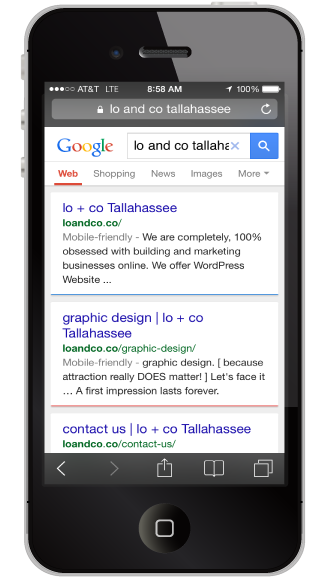 Do a quick search on your phone right now.
Notice that some websites display "Mobile-friendly" before the website description. This lets you know as a user that it is going to adjust to the size of your phone and be really easy to see and navigate from a small screen.
What will happen on April 21st, 2015? If your website doesn't read as "Mobile-friendly" to Google, it WILL DROP IN SEARCH RANK.
Everybody wants to be on page one. This will now be an impossibility without the right website structure.
Don't immediately get mad at Google. They are fulfilling their mission of making search results relevant.
And let's be honest, if you yourself clicked on a website that was itty bitty on your mobile screen and you had to use your fingers to pinch and pull parts of the website into view, wouldn't you give up and click to a different, easier to read website? YES! So all Google is doing is making life easier for searchers.
As business owners, keeping up with technology is just the cost of doing business. You gotta have power, A/C, internet, a computer, a printer, a phone or two, and a really great website among other basic expenses.
Is My Website Mobile-Friendly?
Great question. If you're not sure if your website is mobile friendly, Google has a handy-dandy Mobile-friendly Test Site.
Simply enter in your website address and Google will instantly analyze your website for you. If you are mobile friendly, you'll receive a congrats message. If you are not mobile friendly, it will tell you what about your site is not working for mobile device viewing.
Check your status here:  https://www.google.com/webmasters/tools/mobile-friendly/
Did you get Awesome! or Not mobile-friendly?
Your Answer: Awesome! This Page is Mobile-Friendly
Congratulations! You are right where you need to be. Keep up the good work and don't take your eye off the main goal … more customers!
Want to improve the efficiency of your website? Combine it with email marketing and start making even more money.
Here are a few blog posts we've written that you may like:
6 reasons to integrate email marketing with your website
how to integrate email marketing with your website
You can focus on using your website as a customer generating tool. Keep up the good work of updating your website regularly, keep it secure, and focus on building and growing your email list.
Your Answer: Not Mobile-Friendly
First, breath. The world is not over. Let's talk about this and what you can quickly do to make things right … without breaking the bank!
The easiest and most cost effective answer in this situation is likely a new website.
What?!?! A whole new website?
Yes.
Why?
Because if your website hasn't been changed and maintained for a few years, you are likely facing costly developer time to adapt your current website to a mobile-friendly set up. Most times, it is easier to start from the ground up because it is easier to start from a platform that has no issues than continually play catch-up.
Just like us, your biggest concern is a working website that drives business, shows up in search results and doesn't cost you an arm and a leg and your first-born.
That's why we've created our Initiator Quick Start Website Packages!
Imagine if you had a new website that was easy to use and maintain yourself. One that was easily found in search engines, was mobile responsive and extremely secure.
A new website that looked impressive and professional from the start and would immediately help you convert visitors into customers. And a website with integrated email marketing … because email is your online money tree!
That's how we've built our Initiator Website Packages … to work specifically for you! We invite you to explore our Initiator Packages and look forward to helping you grow your online business.
Food For Thought …
A mobile friendly/responsive website is very important to your online business success. The question to ask yourself is … are you willing to lose the customers you could gain from those mobile searches?
– Here's How We Can Help! –
Because designing and building websites is what we do, we've been aware for some time now that the switch to mobile friendly/responsive websites was going to, at some point, become "necessary" to online business … and not just helpful.
That's why we spent several months putting together some cost effective website packages that would help people get switched over to a mobile responsive website design quickly and easily.